Gathering Light: Star Cluster NGC 602
More time reveals a more complete picture
Full Story
Star Cluster NGC 602 Interactive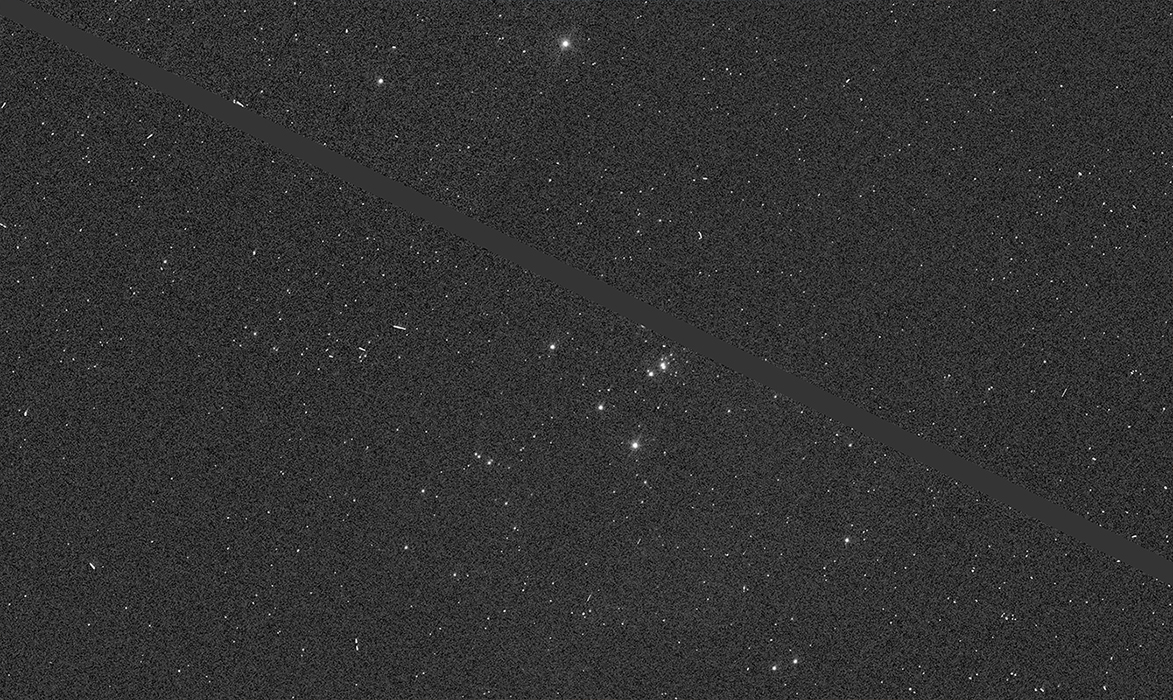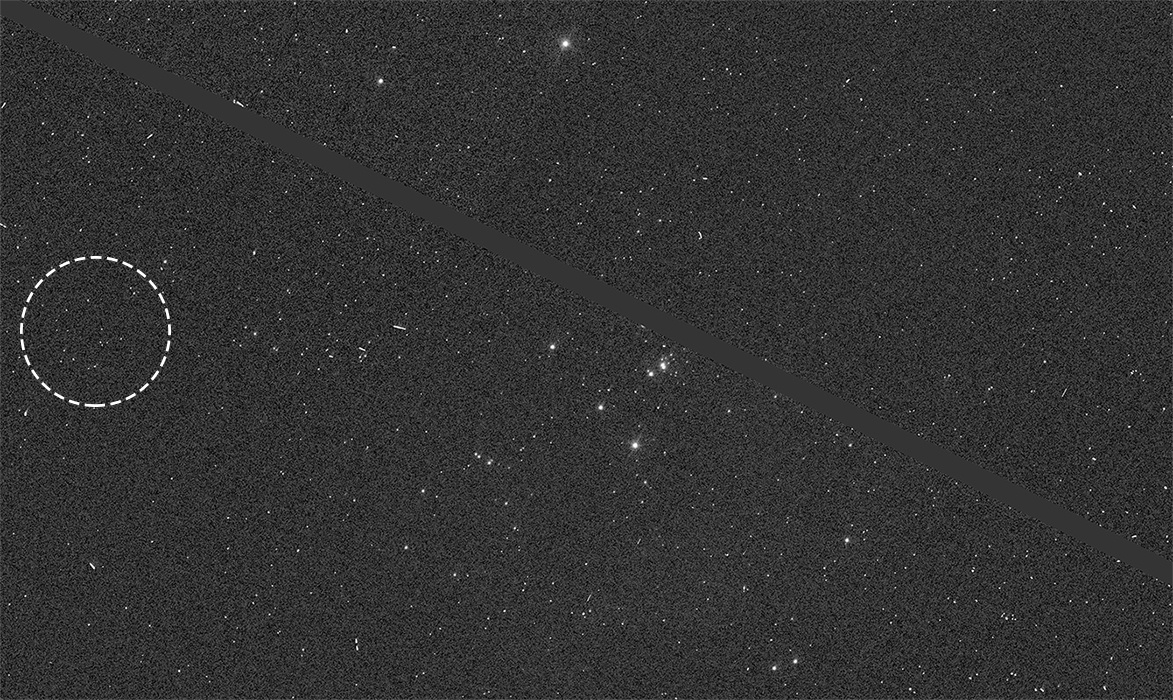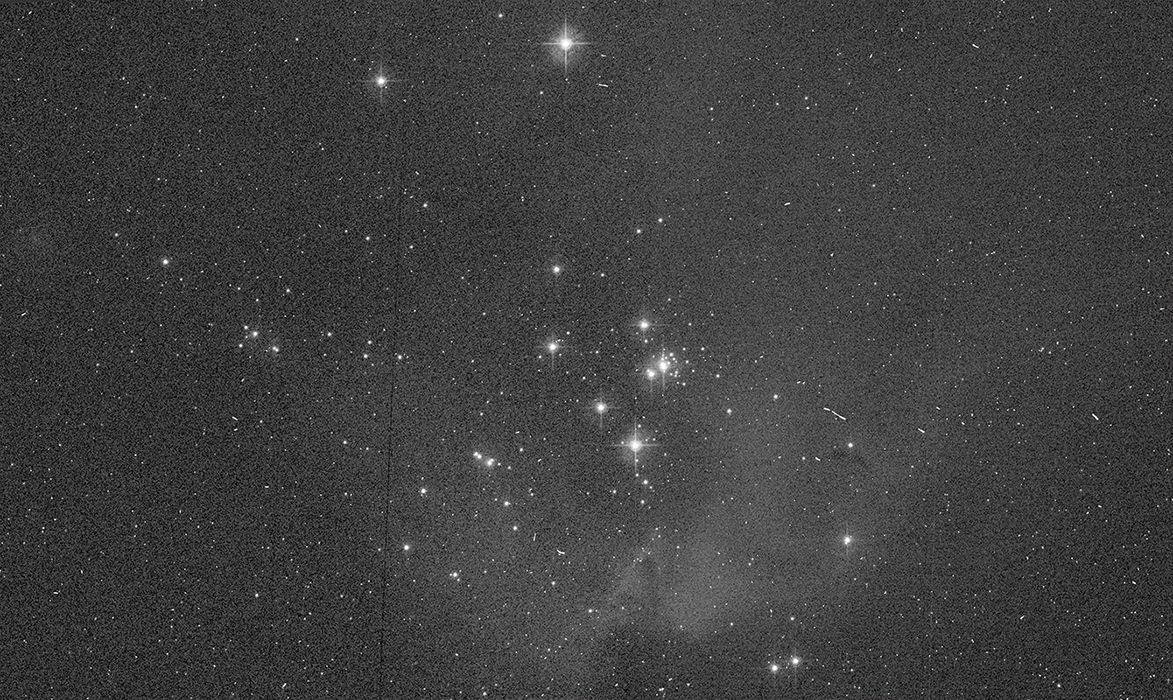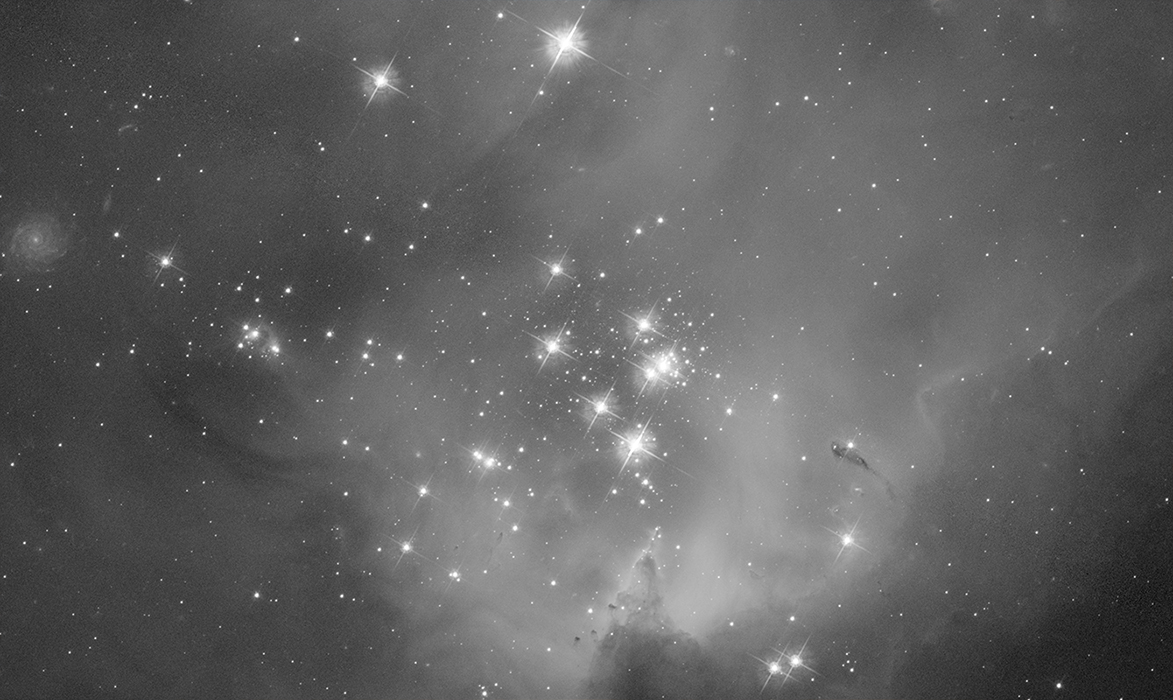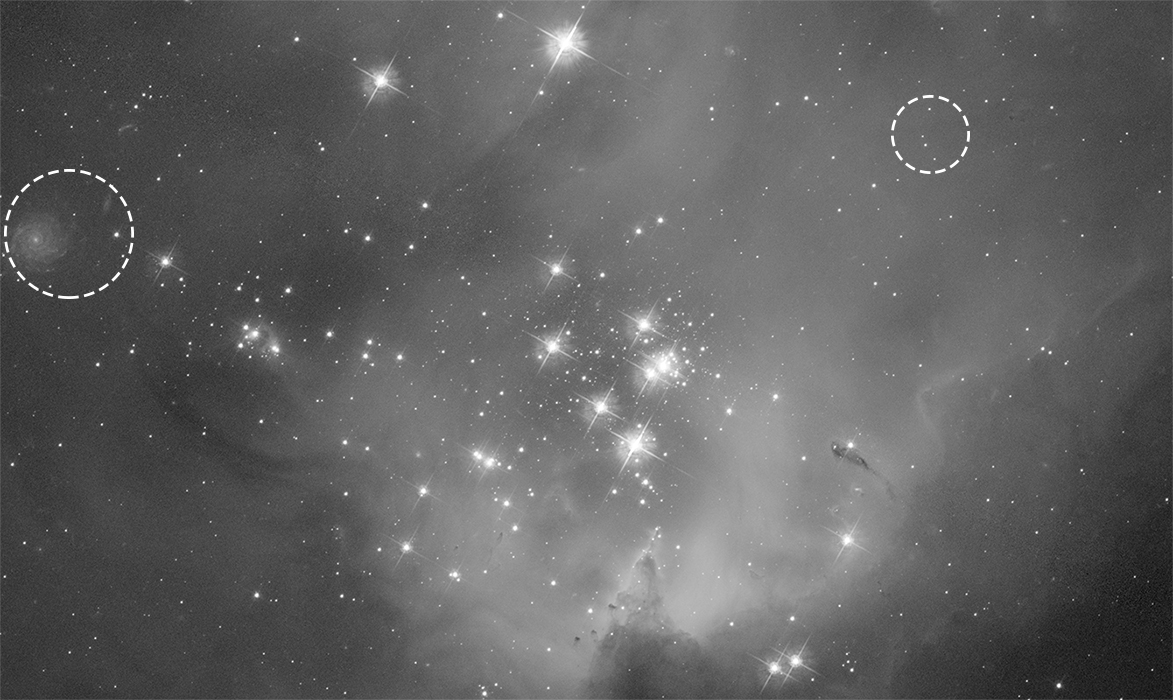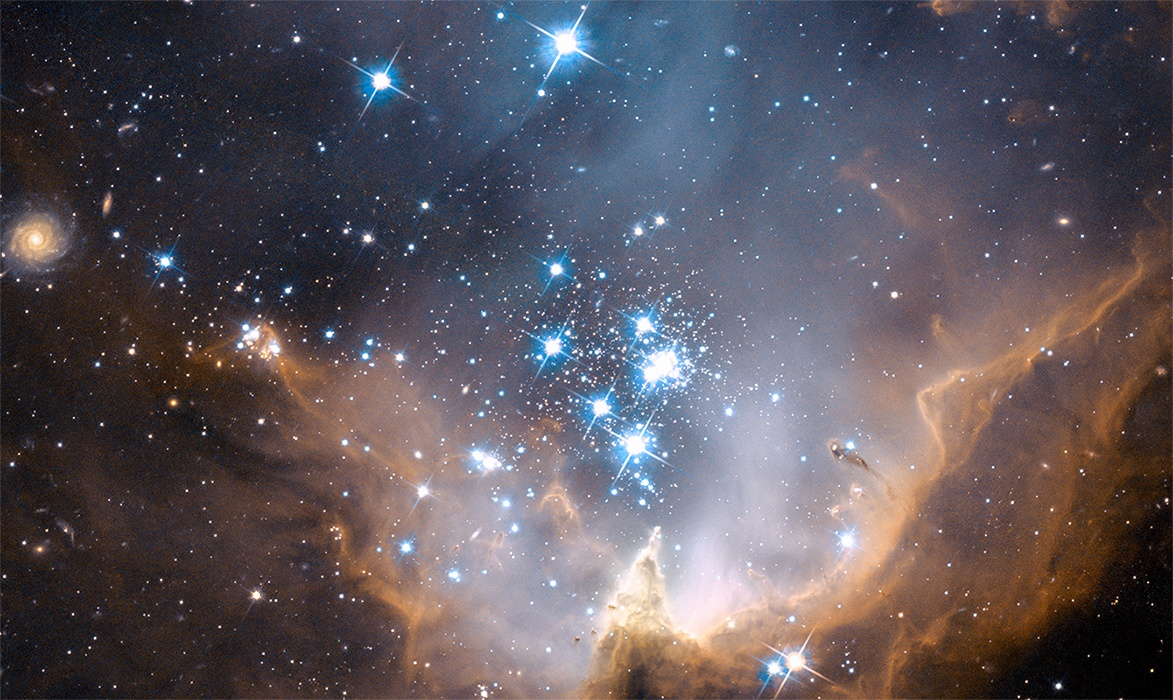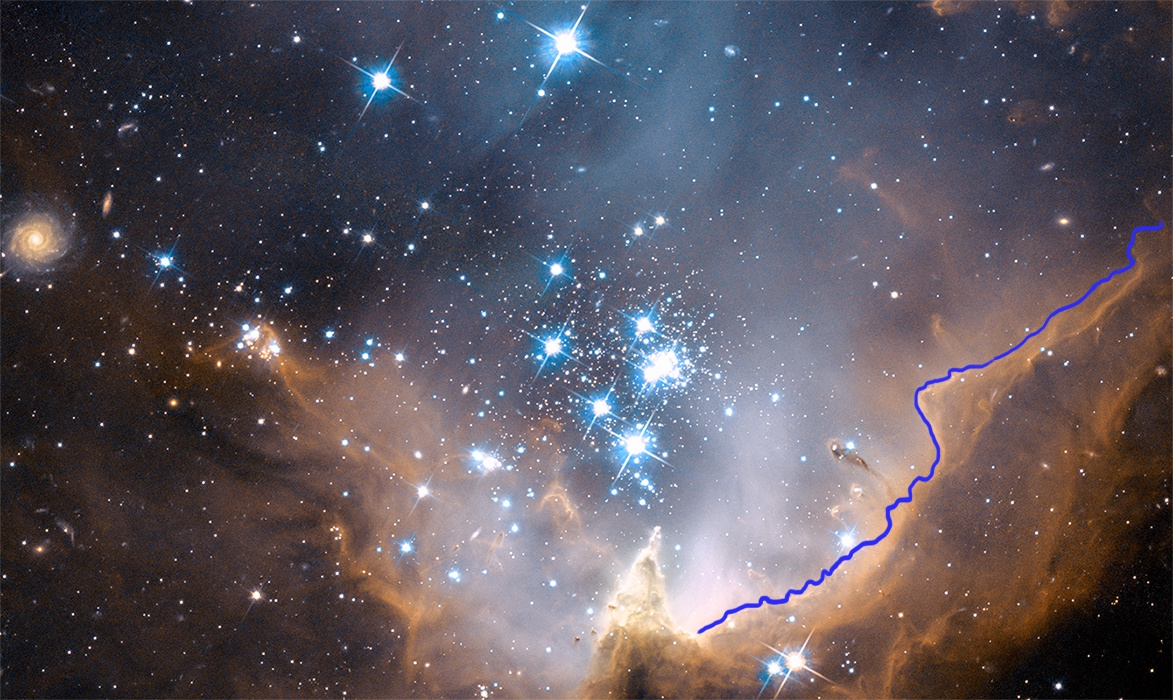 Loading images...
In this faint, five-second exposure, we can barely make out the brightest stars through the visual noise.
As exposure time increases, the stars and faint nebula begin to be revealed.
With more exposure time, more features pop out.
Image processing combines three, single-color images to produce a multicolor picture of this star-forming region.
A Story Of Gathering Light:
Star Cluster NGC 602
The longer a telescope looks at an object, the greater the detail we can see.
If you have ever used manual camera controls to photograph in low light, you know that the darker it is, the longer the exposure needs to be. Keeping the camera shutter open longer allows more light to reach the film or detectors. The same is true for a telescope. The more light a telescope can gather, the fainter and more distant objects it allows us to see. One way to increase the amount of light a telescope collects is by increasing the amount of time it spends pointed at a particular part of the sky.
Scientists took multiple exposures to study the star-forming region around NGC 602, a cluster of hot, young, massive stars. This region is located in the Small Magellanic Cloud, a small, satellite galaxy of the Milky Way. The team used the shorter exposures to see the details of the brightest stars, whose images would be oversaturated in the longer images. They then added the exposures together to create a deeper, richer, and more detailed image. A single exposure is also likely to have a lot of artifacts from cosmic rays (high-energy charged particles from the Sun and other astronomical sources) or visual noise, which refers to random fluctuations in brightness or color, in the light detector itself. When exposures are combined, artifacts are removed, and real sources of light emerge, becoming brighter. This Hubble image is so detailed that more than 40 galaxies can be seen through the nebula.
The high-energy radiation blazing out from the massive, young stars in NGC 602 is sculpting the inner edge of the nebula, slowly eroding it away. Elephant trunk-like pillars point towards the hot, blue stars and are tell-tale signs of their eroding effect. These dense pillars of gas and dust host stellar cocoons, where newborn stars are forming. Scientists used Hubble to trace how the star formation started at the center of the cluster and moved outward, with the youngest stars still forming today along the dust ridges.
Quick Facts:
Star Cluster NGC 602
Distance from Earth: Approximately 198,000 light-years

Size: 126 light-years wide

Type of object: Center of ongoing star formation

Location in the sky: Hydrus Constellation

Location in the universe: The outskirts of the Small Magellanic Cloud, a small, satellite galaxy of the Milky Way

Did you know: Star formation in NGC 602 happened in waves, cascading from the center outward. Stars continue to form even today.

Explore More About Gathering Light
Find out more with these additional resources from NASA's Universe of Learning
Credits:
Star Cluster NGC 602
Visible light images from the Hubble Space Telescope: NASA, ESA and the Hubble Heritage Team (STScI, AURA), ESA, Hubble Collaboration
Subject-matter expertise provided by Dr. Lynn Redding Carlson and Dr. Simon Steel
Produced by the Space Telescope Science Institute's Office of Public Outreach