Forms of Light: Phantom Galaxy
Young Stars, Old Stars, Dead Stars, Gas, and Dust
Full Story
Phantom Galaxy Interactive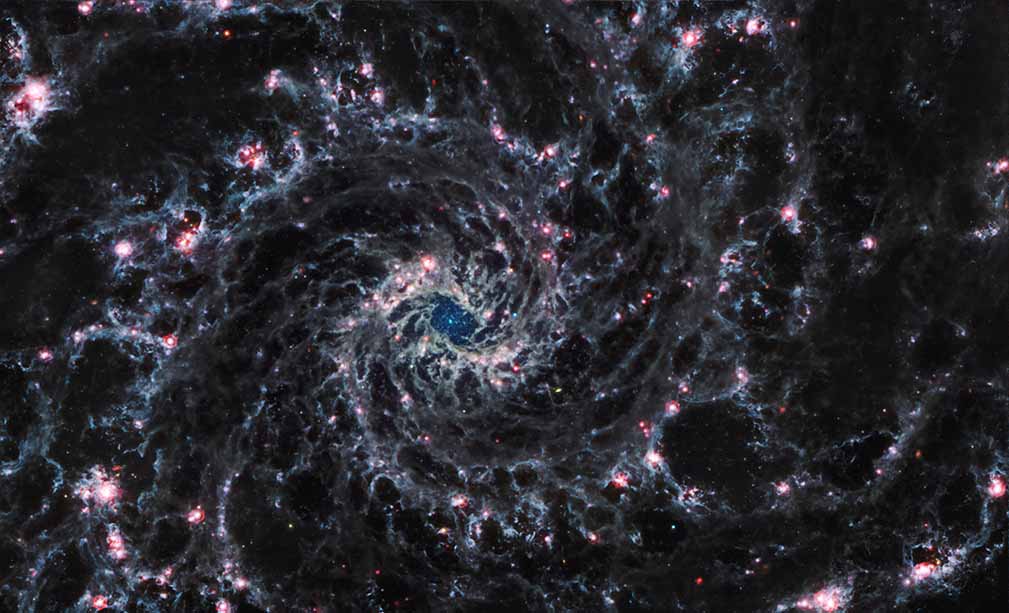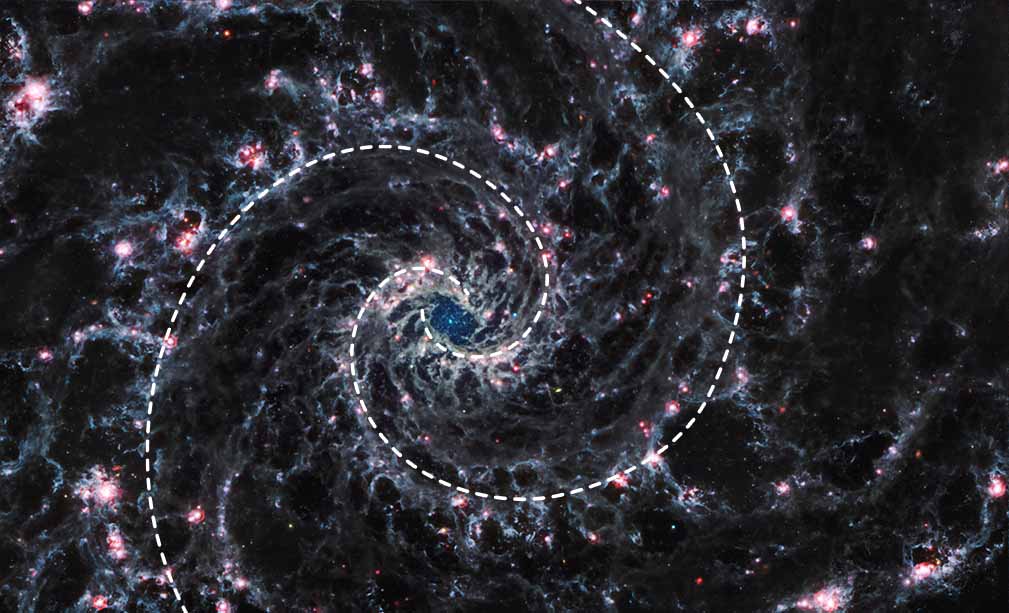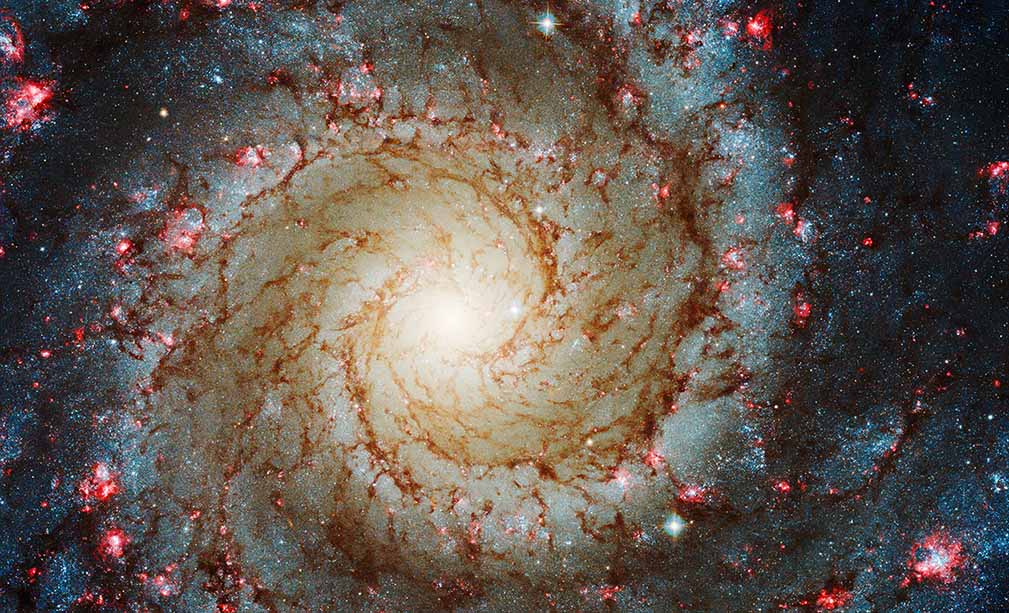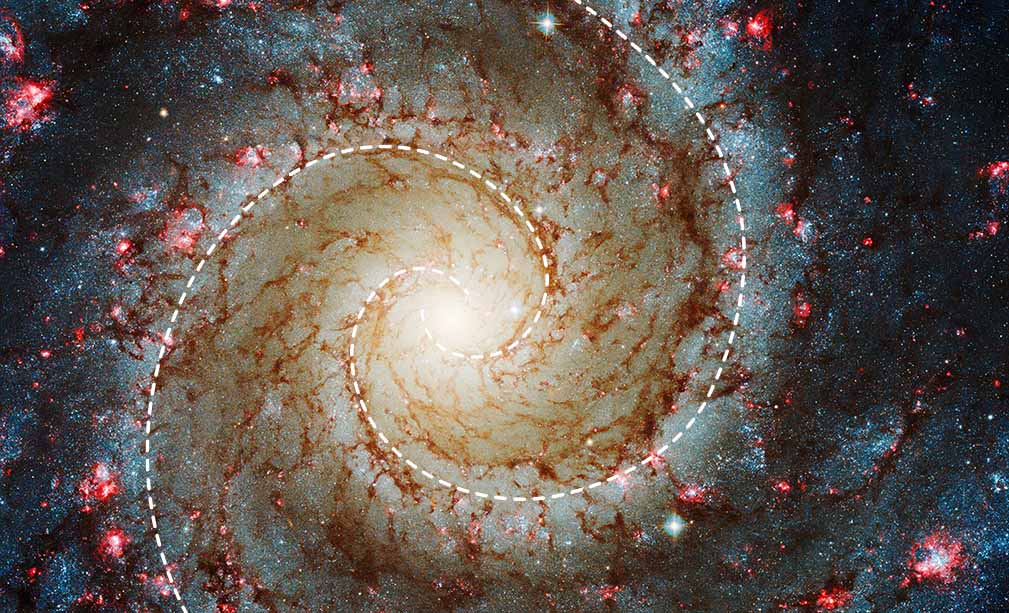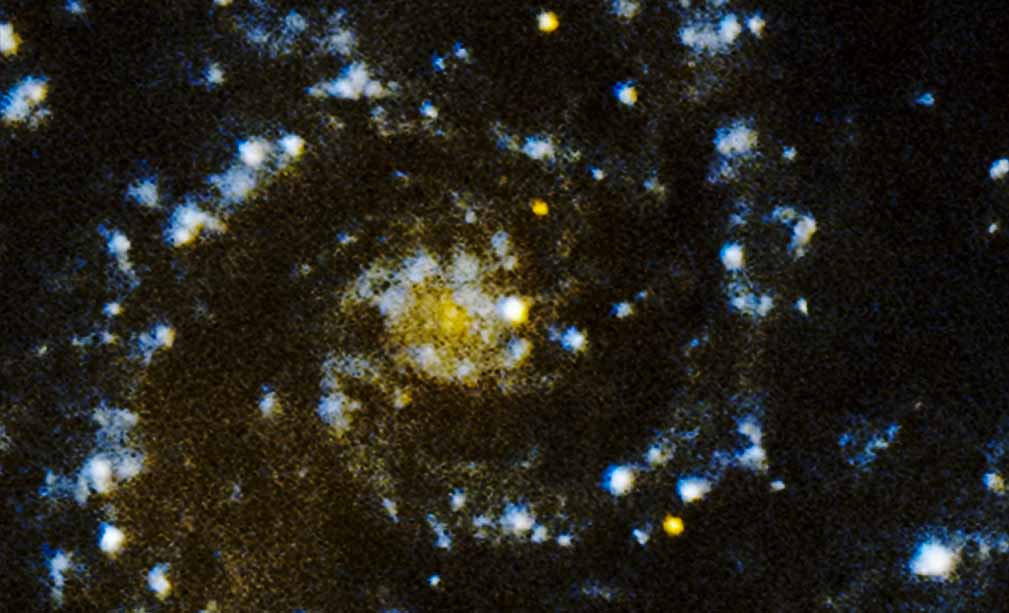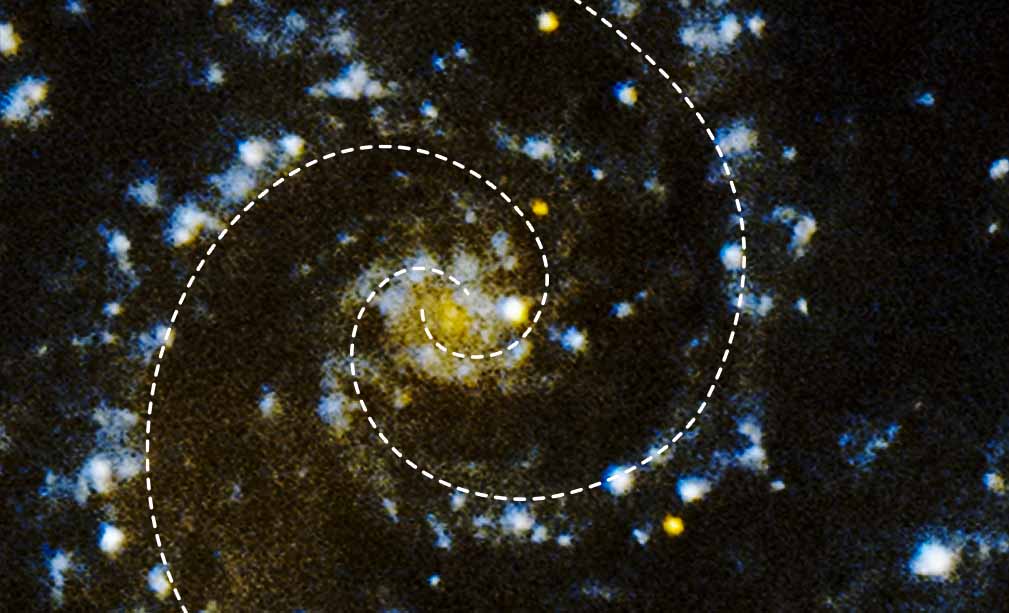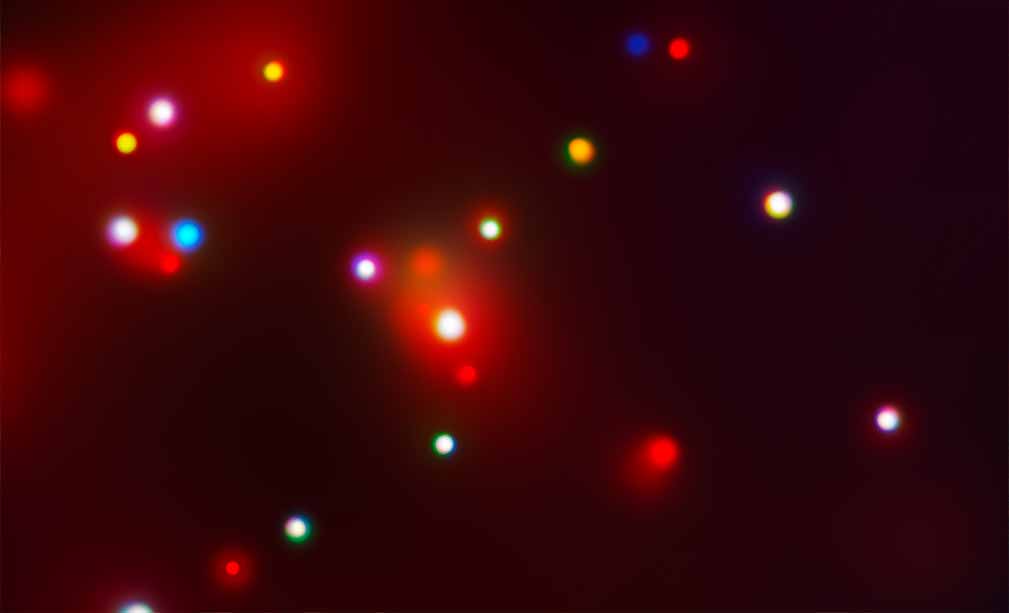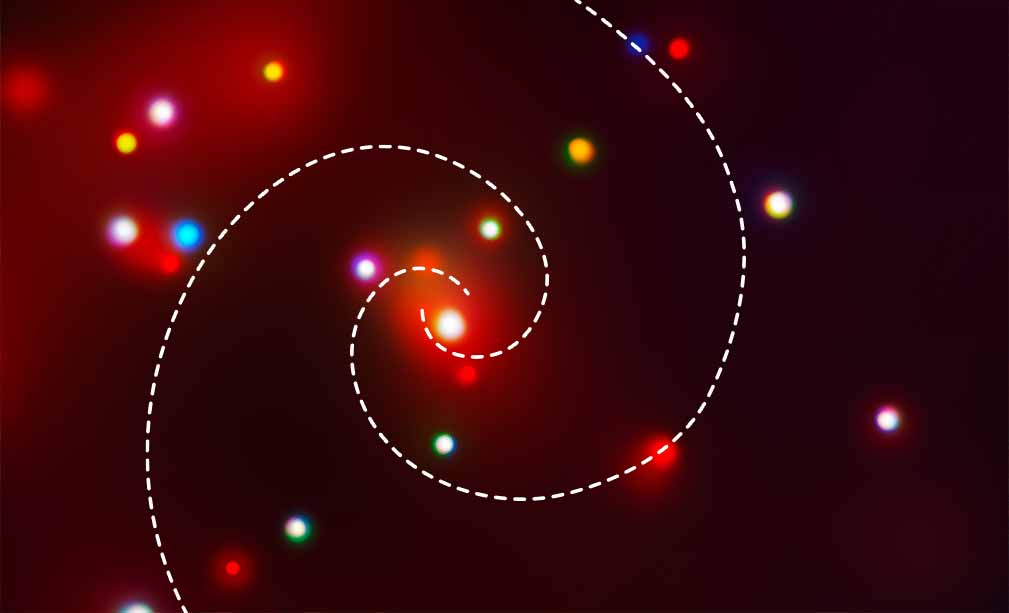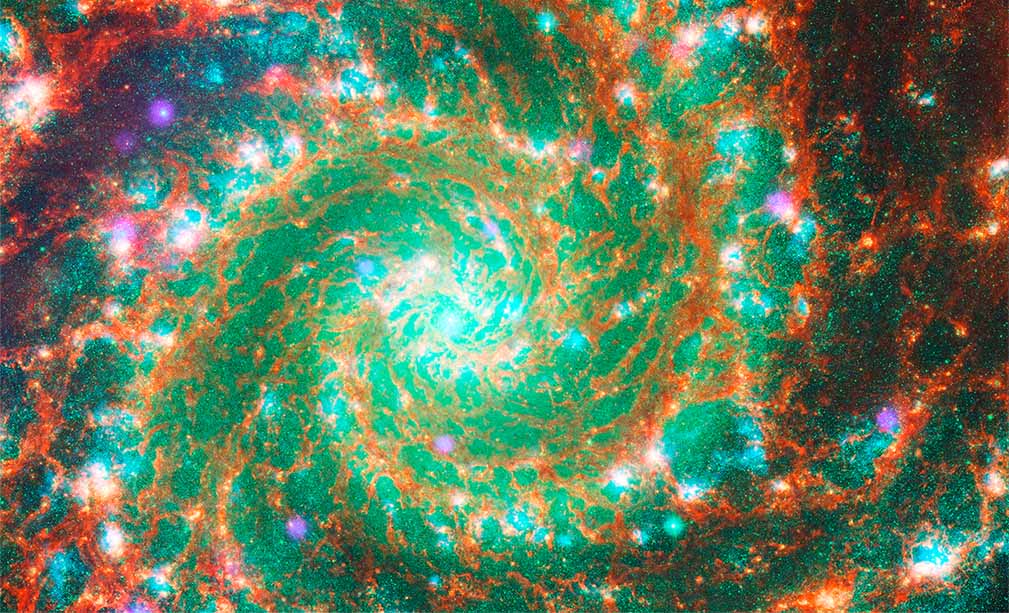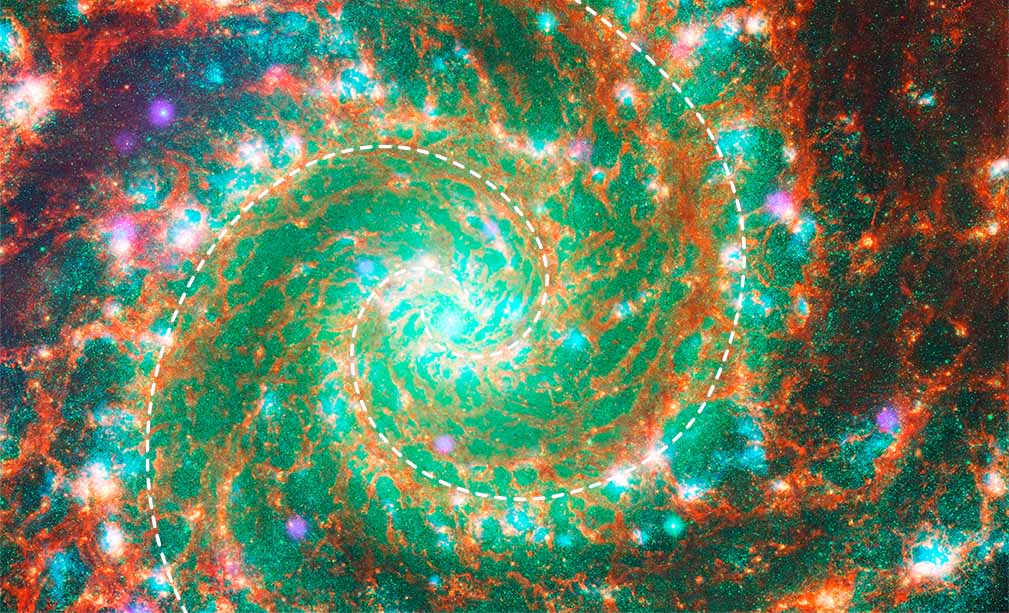 Loading images...
Lanes of dust and knots of star formation glow in infrared, tracing the galaxy's spiral arms.
Shadowy lanes of dust absorb and scatter visible light from stars.
Hot stars emit ultraviolet energy that causes gas to glow with visible and infrared light.
Gas gives off X-rays as it falls into the super-dense core of a dead star: a black hole or neutron star.
A composite of visible and invisible light shows relationships between dust, gas, and stars.
A Story Of Forms of Light:
Phantom Galaxy
Stars, gas, and dust that make up a spiral galaxy give off visible and invisible colors of light.
Human eyes have evolved to detect the rainbow of colors that make up visible light. Some things, like stars and light bulbs, emit their own light. Other things, like plants and animals, are visible because they reflect visible light from other sources.
But visible light is just one form of light. There are other types of electromagnetic radiation that human eyes cannot see. Objects that do not give off their own visible light (and are therefore invisible to our eyes in the dark) glow in other wavelengths, like infrared or ultraviolet. The entire range of light, from radio waves to gamma rays, is known as the electromagnetic spectrum.
The Phantom Galaxy is a spiral galaxy made of clouds of gas, streams of dust, and hundreds of billions of stars of different size, temperature, and age. Much of the dust and gas, and many of the hot, young stars are concentrated in the galaxy's two dense spiral arms. The center of the galaxy contains many older, cooler stars. Some of the older stars that formed within the spiral arms have moved over time and are now in between the arms. Black holes and neutron stars, which are collapsed cores of exploded stars, are scattered throughout the galaxy.
These different objects and materials emit, reflect, and absorb different colors of light. Cooler materials like dust and older stars give off a lot of infrared light. The hottest materials, like the gas falling into black holes, give off X-rays, which are very high energy. Looking at the different forms of light from the Phantom Galaxy helps us understand what the galaxy is made of; how the dust, gas, and stars that make up the galaxy are related to each other; and how the galaxy changes over time.
Quick Facts:
Phantom Galaxy
Also known as: M74 (Messier 74), NGC 628

Type: Spiral Galaxy

Size: 95,000 light-years across

Distance from Earth: 32 million light-years

Location in the sky: Pisces Constellation

Location in the universe: Outside the Milky Way

Did you know: The stars within the dense arms of a spiral galaxy do not stay within the arms. Instead, they move through the arms, like cars move through a traffic jam.

Explore More About Forms of Light
Find out more with these additional resources from NASA's Universe of Learning
Credits:
Phantom Galaxy
Infrared image of the Phantom Galaxy from the James Webb Space Telescope: NASA, ESA, CSA, STScI
Visible light image of the Phantom Galaxy from the Hubble Space Telescope: NASA, ESA, STScI
Ultraviolet image of the Phantom Galaxy from XMM-Newton: ESA
X-ray image of the Phantom Galaxy from the Chandra X-ray Observatory: NASA, CXC
Multi-wavelength image of the Phantom Galaxy from the James Webb Space Telescope, the Hubble Space Telescope, XMM-Newton, and the Chandra X-ray Observatory: NASA, STScI
Written, designed, developed, and produced by the Office of Public Outreach, Space Telescope Science Institute